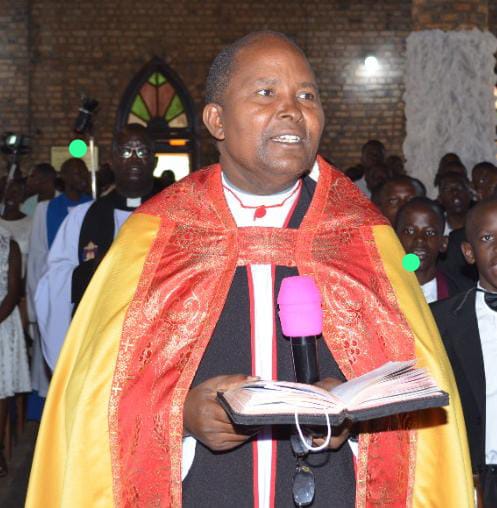 WHITE SMOKE: Enos Kitto Kagodo is the Bishop-elect Mukono Diocese
● Meanwhile Mothers' Union elect new President, other leaders
BY MOSES MUGALULA
LWEZA
NEWLY elected 5th Bishop of Mukono Diocese Church of Uganda the Very Rev Canon Enos Kitto Kagodo of St. Philip's and Andrew's Cathedral Mukono has testified before The House of Bishops how he was a drunkard thanking God for saving him.
Addressing fellow servants of God, Bishop-elect Kagodo said, "I thank God who saved me from being a drunkard and from the life full of destructive behaviours which I had started as a juvenile."
Kagodo who was elected by The House of Bishops today morning at Lweza Training and Conference center, has taken over from Bishop James William Ssebaggala, defeating Godfrey Ssengendo of Mukono Nassuuti in one of the hottest races ever!
Bishop-elect Kitto Kagodo will be consecrated and enthroned as Bishop of Mukono Diocese on February 26th 2023 as the Fifth Bishop of Mukono Diocese at St. Philip's and Andrew's Cathedral, Mukono.
Rev. Enos was born on 13th December 1968 in Nakisunga Sub-country in Mukono District. He was born again on 14th October 1994.
He earned a Master of Divinity degree and a Bachelor in Health Administration from Uganda Christian University, after receiving diplomas and certificates in the same fields.
Rev. Enos is currently the Provost of St. Philip's and Andrew's Cathedral in Mukono. Prior to this position, he has served as a parish priest, Archdeacon, and Diocesan Health Coordinator.
He was ordained a deacon on 9th June 2002 in Mukono Diocese and then made a reverend on 12th December 2004. He has served on school management committees as well as various Diocesan Boards in the course of his ministry.
Rev. Enos is married to Catherine Namuddu and God has blessed them with seven biological children and many spiritual children.
In one of the messages congratulating him, Manafwa Deputy RDC Kagenyi Lukka has said, "He is a son to Late Philip Kalule Kagodo and a brother to Ambassador Moses Kalule Kasujja."
ASIIMWE TAKES NORTH KOGEZI DIOCESE
Rev. Onesimus Asiimwe has been Elected 6th Bishop of North Kigezi Diocese. He testified how he was a heavy smoker before getting born again. He was born again on January 8th 1988. After a night of heavy alcohol drinking, he heard the Lord say to him the next morning, "Onesimus, do you not know that your body is the Temple of God?"
In response to the voice, Onesimus told Bishops, "I threw away the cigarette dangling between my fingers ad called on Jesus for salvation. The Holy Spirit
convicted me to repent of my sins and to make a public confession of my new found faith, which I did that very evening during our family prayer time and a couple of days later in our local church in Kihanga."
He will be consecrated and enthroned as Bishop on 12th March 2023 at Emmanuel Cathedral, Kinyansano, Rukungiri.
Rev Onesimus was born on 24th April 1965 in Mparo, Rukiga District. He earned a Master of Divinity from Uganda Christian University, a Bachelor of Education from Makerere University, and a Diploma in Education from the National Teachers College in Kabale. He has attended numerous capacity building trainings locally, as well as internationally.
Rev. Onesimus is currently the Chaplain of St. Francis Chapel, Makerere University. Prior to this position, he served as the Provincial Youth and Students Coordinator where he helped develop the very influential PAYSCO (Provincial Annual Youth and Students Convention) programme. He also served as the Chaplain to Archbishop Henry Luke Orombi, and Coordinator of the Provincial Healing, Deliverance, and Intercessory Prayer Ministry.
Rev. Onesimus is married to Florence and the Lord has blessed them with three children.
MOTHERS' UNION ELECT PRESIDENT
Early morning, The Mothers' Union Annual General Meeting sitting at Lweza Training and Conference Centre today elected Mrs. Grace Murengezi from the Diocese of Kampala as the Provincial Mothers' Union President replacing Canon Dr. Ruth Senyonyi who has served for eight years.
During the same meeting, Mrs. Caroline Cik from Northern Uganda Diocese was elected as the Vice President replacing Maama Dr. Alice Mwesigwa from Ankole Diocese.
Mrs. Grace murengezi who was until her election today been the Provincial Mothers' Union Treasurer, is married to Eng. Moses Murengezi and God has blessed them with four sons and grand children.
The election was presided over by the Archbishop of the Church of Uganda, The Most Rev Dr Stephen Samuel Kaziimba Mugalu; Rev Canon William Ongeng, the Provincial Secretary and Rev Simon Peter Ddembe, the Director of Missions and Outreach.
During the same meeting, members elected Regional Presidents and Community Development Coordinators (CDC's) as follows;
Western Uganda President- Mama Jean Magezi (North West Ankole Diocese)
CDC: Mrs. Olive Magezi (West Ankole Diocese)
Eastern Uganda President: Mrs. Natasha Isabirye Kagoya (Busoga Diocese)
CDC: Mrs. Betty Taata Nesihwe (Bukedi Diocese)
Central Uganda President: Mrs. Roseline Biingi Kawiso (Namirembe Diocese)
CDC: Mrs. Janet Kibuuka (West Buganda Diocese)
Northern Uganda President: Canon Grace Kissa (Lango Diocese)
CDC: Rev. Capt. Hellen Munduru (Madi West Nile Diocese).
According to Mrs Barbara Mugisha the Mothers' Union and Family Life Ministry coordinator, the rest of the committee positions will be filled by the Mothers' Union Council which will sit very soon.
Past Provincial Mothers' Union Presidents are; Mama Geraldine Kauma, Canon Gwennie Rukare, Canon Jolly Babirukamu, Mrs. Vivian Kityo, Rev. Canon. Dr. Edidah Mujinya and Canon Dr. Ruth Senyonyi.
For views/comments on this story, whstsapp editor on 0772523039